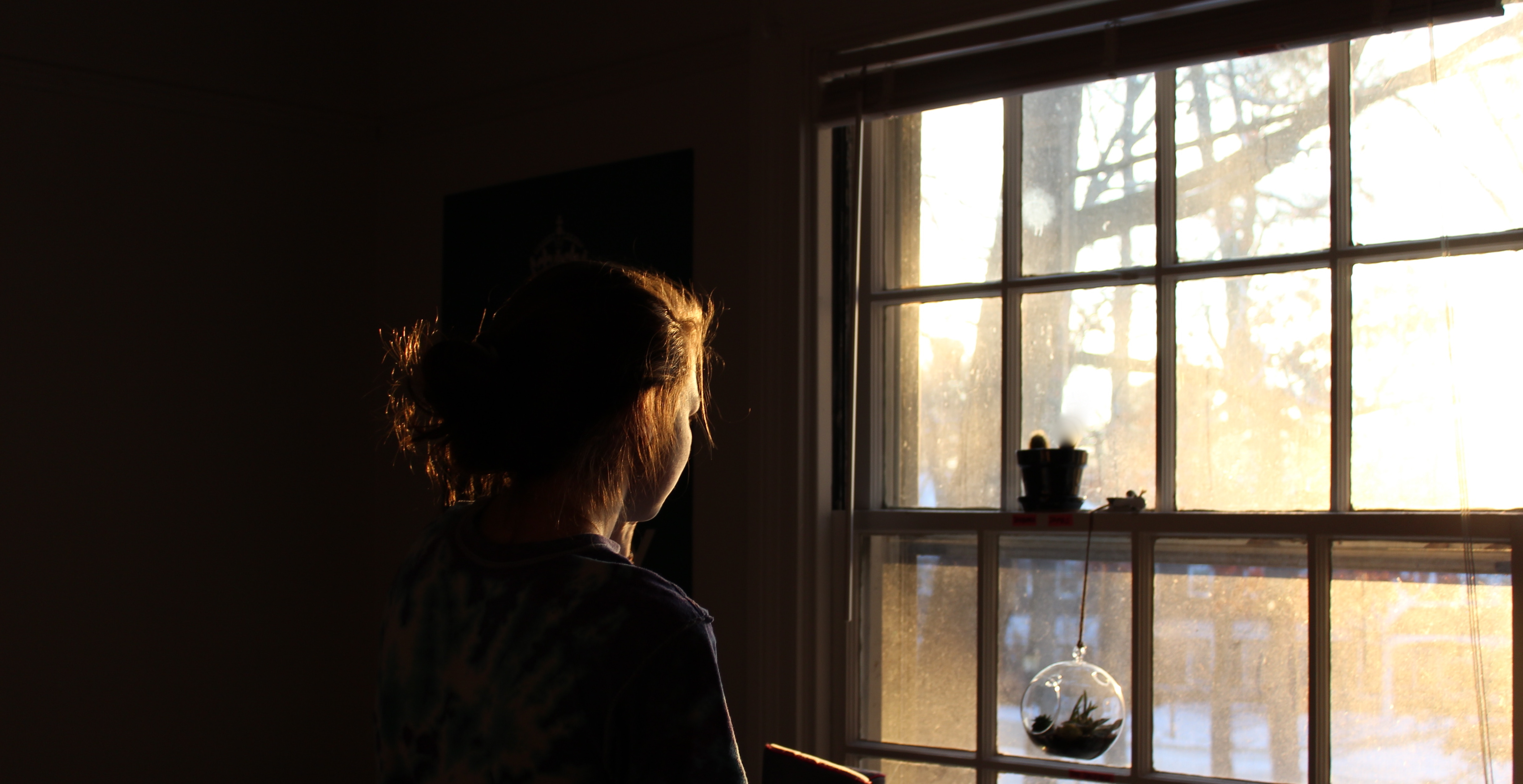 by Jeff Christian
Before the eyes open, it's a deep breath. Maybe two. If I'm on my side, I roll over onto my back. Another breath. Crane my neck slightly up off the pillow to look across the dark room to the one light, the red light across that most often show three numbers, usually beginning with a 3 or 4, a 5 if I'm lucky.
I throw back the sheet gently so as not to wake Jen, slide my legs out, see my way in the dark into the bathroom to put on my glasses where I leave them every night. Grab a shirt, throw it on, walk to the door, open it, walk through it, close it softly behind me, and go downstairs where my not-so-subtle tomcat yells at me for food regardless of the time.
If I am up before the timer on the coffee pot is set to go off, and I usually am, I walk over to it first thing and push the button to launch it. A man's gotta have his priorities. And most of the time I just stand there for a moment, leaning against the countertop in the quiet as the cat looks up at me adoringly the way an animal adores the hand that feeds. I wait. Stand and breathe and pray.
And God always shows up.
Ten minutes later I'm pouring the first cup, and then walking over to my recliner to read. It's my favorite quiet alone-time morning activity. Sometimes I'll check my email, but I am trying to break that addiction. Morning is a time for quiet without advertisements and images of shortsighted tyrants on the computer. Morning is my time of waiting in hope, waiting in anticipation that something great is about to happen today, even if that something great may not look great to the majority of the world. Rarely is the great thing a booming announcement with spotlights and fanfare. Most of the time the great thing is a breath, a feeling, a blessed assurance.
And God always shows up.
Two of the people I love the most in the whole wide world will eventually come downstairs, usually with a hi or good morning, often a hug or a kiss. That's one of the first moments of great. That is one of the moments when I feel the presence of the one who sustains the universe.
And God always shows up.
Get past breakfast and cleaning up and packing lunch for the day and so on and so on. I know God is there too, but usually I'm too busy making other plans to notice. No offense, God.
But when the garage door closes and I roll onto the throttle on my way to my office where I will pray and hope and join the work of new creation… oh, man… let me tell you… sometimes it's one hour, sometimes it's five. Sometimes like when I was learning Greek and history and philosophy in college and I would completely lose track of time until the librarian would come over the speakers on the top floor and inform us that in ten minutes the library would close, it's like that when you are waiting on God.
And God always shows up.
These are my Elijah moments, my 1 Kings 19 moments, and they are almost always in the morning. Don't know why. But they are. Mornings are filled with greetings. Leah walking through the door with a "Good morning." Don with his "Good morning, Jeff." Cynthia with her, "Okay, you got a minute?" These are holy moments to me. Sunday mornings are even more concentrated. Noah taking my hand in his and saying "Thank you" whether the sermon is good or just regular. Gail's sweet smile and her arm around my neck. Samira's excitement on the day of the Lord. David's faithful nod and acknowledgment that we are at church where we gather with the one who was, who is, and who is to come. These are the holy moments in the life of the church, in a community of faith, when all the other stuff that goes with church is suddenly worth it. Church is not all blue skies and rainbows. But when you gather, and when we remember why we gather, everything makes sense, even when it doesn't make sense.
And God always shows up.
It's similar to restarting the computer when the computer is like a fresh pot of coffee before it sits for hours and starts rolling its eyes at all the inattention. After the little electronic device has spent its day opening apps to entertain, to inform, to titillate, to direct, it gets to a point where it wants to shut down like C3PO mysteriously asking Luke if he can go to sleep for a while. But when we all wake up, at least this is my experience, no bombardment of images and frustrations and negative comments have had time to distract us from that which matters the most.
And God always shows up.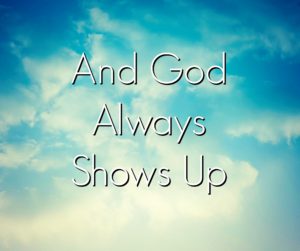 These are my Elijah moments, my 1 Kings 19 moments when God decided one day to contact a dusty old prophet, telling him to go outside, wait and get ready for what's what. The technical Bible language is "pass by." God tells Elijah that God is about to pass by. Same thing Jesus did that night on the lake. Pass by. It's scary because it's unfamiliar. But it doesn't have to stay that way. Once you get used to it, you come to realize the same thing Elijah realized in 1 Kings 19 that all the earthquakes and fires and hurricanes are not the arrivals of God. The story goes that after the earthquake came a fire. But God was in neither the earthquake nor the fire. Because after the fire came a gentle whisper, which is when Elijah pulled his cloak over his head. For me, that's the deep breath, the walking downstairs, the ride to work, the flipping on of the lightswitch in my office in great hope and anticipation and blessed assurance that God still has something to say to the people who want nothing more than to hear that God is there, and that God still cares. Every day I wait. Every day God is faithful. Usually just a gentle whisper.
And God always shows up.